Why Vogmask?
Offering effective, well-fitting, comfortable, and stylish face masks, Vogmask is dedicated to protecting its wearers, others around you, and the environment.
Vogmasks feel good, look good, and protect you by reducing exposure to sub-micron particles in your environment, in addition to providing a barrier for exhaled droplets of the wearer. Not simply a cloth mask, Vogmask excels in the technology of filter media and performance testing.
Explore how you can protect your health, the health of others, and the planet with Vogmask.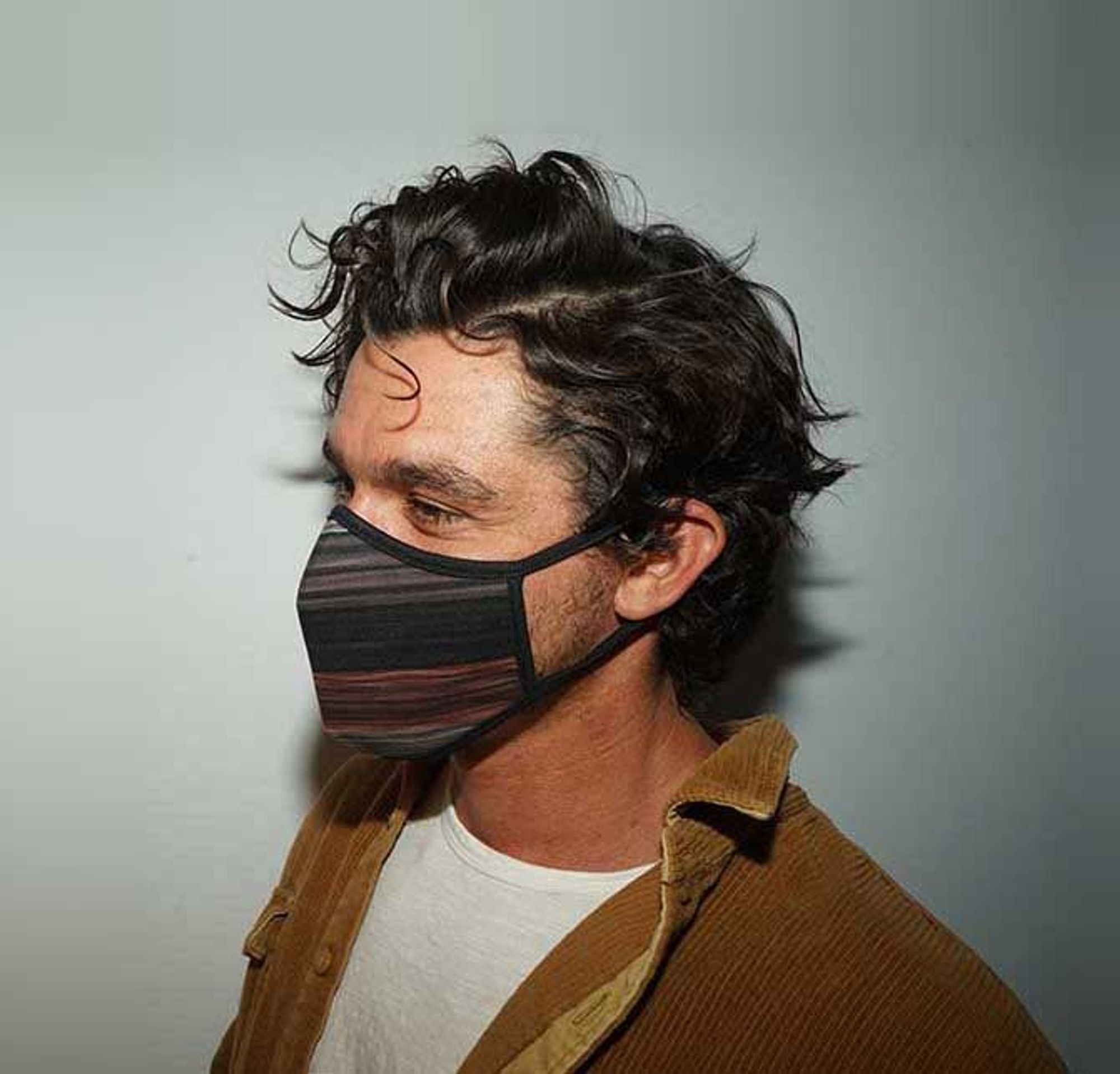 Stylish
As time passes, the uses for face masks only grow. Whether to protect your own lungs or those around you, investing in a mask for both protection and style is a worthwhile investment. Reusable mask products replace single-use disposables to guard the planet of the future.
We offer stylish designs on the outer layer of the mask that let you match your mask with your own personal style. Vogmask is offered in several designs and colors across two product families: Microfiber VMC and Organic VM.
Microfiber VMC is a four-layer mask
Outer Layer is Non-Woven polyester printed by thermal transfer with safe for respirator inks
Two layers of Filter Media are a Carbon Filter and a Vogmask VM highly efficient Particle Filter
Protective Inner layer of Woven Polyester
Organic VM is a three-layer mask
Outer Layer is Certified Organic Cotton dyed with safe for respirator dyes
Filter Media is Vogmask VM highly efficient Particle Filter recipe
Protective Inner layer is Certified Organic Cotton
Vogmask is manufactured under Quality Plan for conforming products. Materials are tested for safety and suitability for masks and supported with Safety Data Sheets.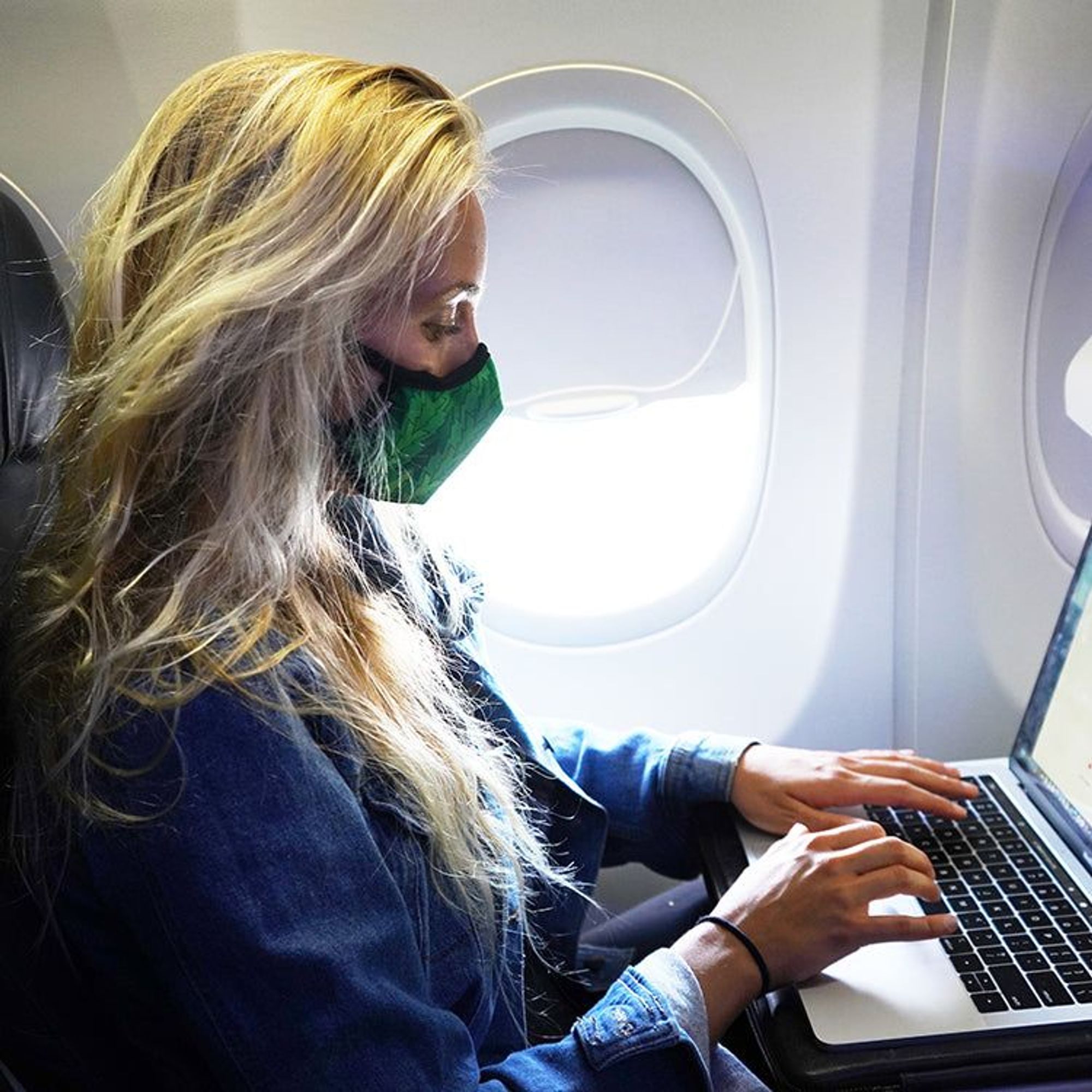 Effective
Filtering performance and fit are essential to effective face masks. For over eleven years we have continuously confirmed filtering performance under the standards of workplace respirators.
Vogmask is tested with sub-micron particle NaCl (.3 micron mass mean diameter) to assess particulate filtering efficiency, for protecting health in both source control (reducing expelled droplets) and personal protection (reducing the amount of inhaled particulate matter by the wearer).
Vogmask Is designed to provide comfortable mask-wearing and to meet safety requirements for reusable consumer masks.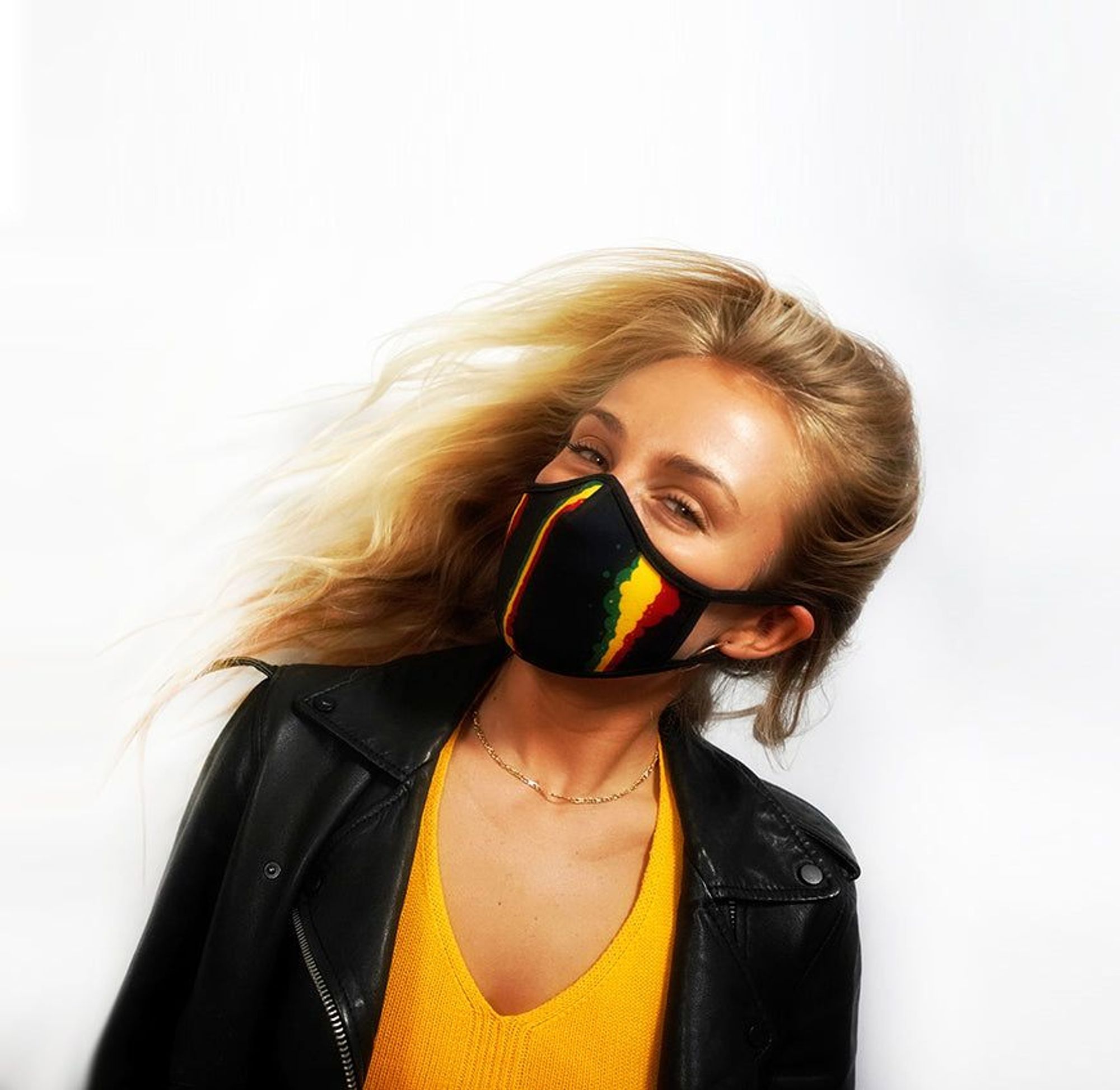 Fit
In order to make masks effective, it begins with finding the right fit. The mask should fit well to provide a good seal around the nose and mouth. Vogmask is offered in 5 sizes to provide an excellent fit on a wide variety of facial shapes and dimensions. Instructions are provided to determine proper fit. Fit Testing on sample test subjects tests leakage under normal activities. Additionally, adjustment options include a coated aluminum noseband in the top trim of the mask and an optional head strap accessory for alternate attachment around the back of the head.
Vogmask is designed to facilitate correct positioning on the face and remain in place. Manufacturer supplies correct donning, doffing, and noseband instructions. There should be no restriction of the user's field of vision when wearing the mask. A user seal check confirms the proper fit.
This proper seal means protecting your lungs from potentially harmful airborne contaminants in the air. Since clear air is essential to health, wearing the right mask is a proactive way to reduce risks to your health. Airborne contaminants challenge our respiratory system from wildfire smoke, smog from poor air quality, pollen, dust, mold, and aerosolized germ particles in the air. Mask use is beneficial for protecting the lungs from airborne contaminants, supporting your overall health and wellness.
To learn more about Vogmask's testing and qualifications, please visit our technical page.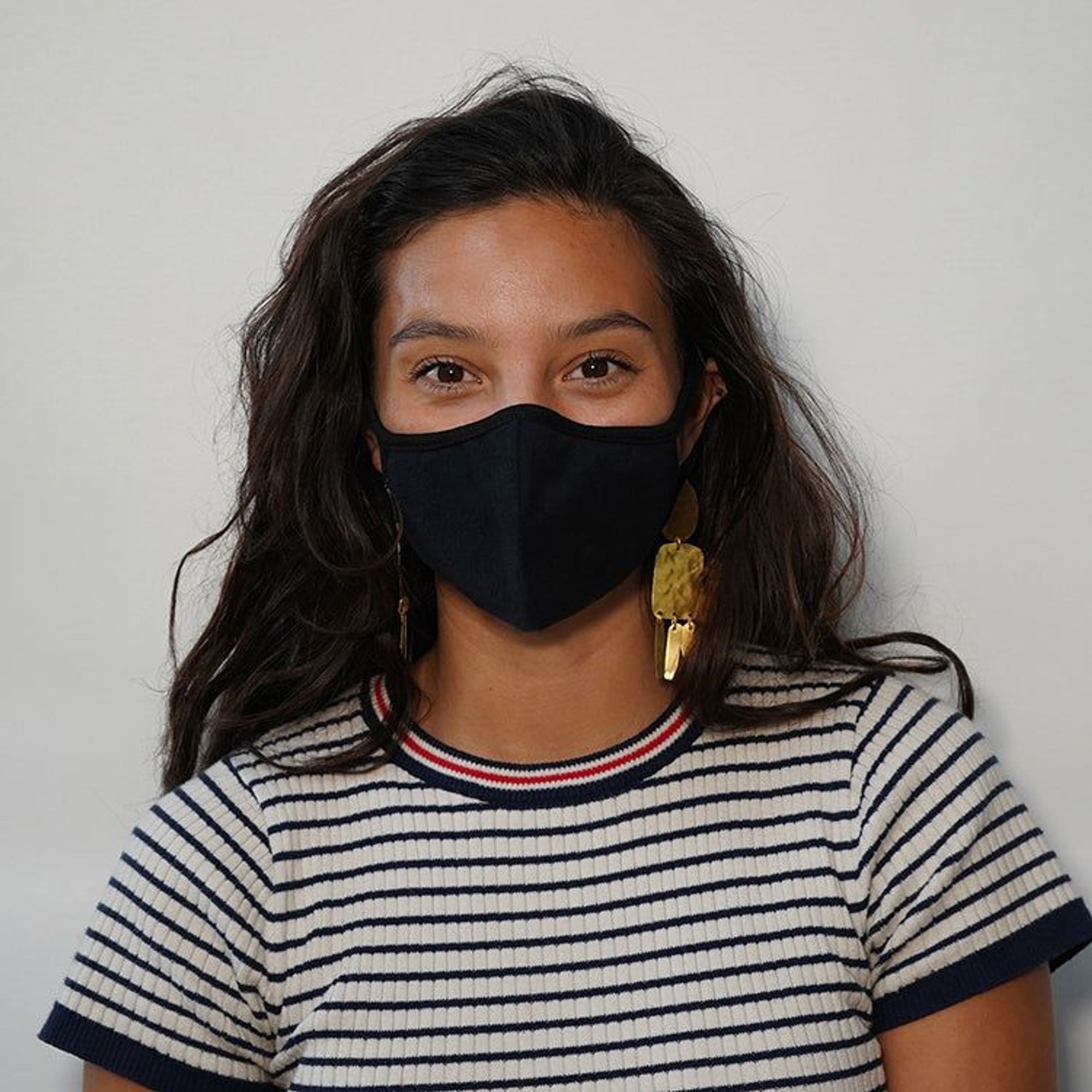 Reusability
Many mask wearers worldwide choose disposable or one-time use face masks. It is becoming more evident as time passes that mask use is now a common practice in most parts of the world, and it will not be disappearing. Purchasing an effective, reusable mask is a great step towards reducing landfill waste and aiding our environment.

Vogmasks are an effective reusable mask that can be worn for many months. The VM filter recipe in Vogmask has an obsolescence date of three years from manufacture. Most Vogmask users replace their Vogmask at 3 months to one year of use. Both financially and for the environment, Vogmasks are a sustainable facemask choice.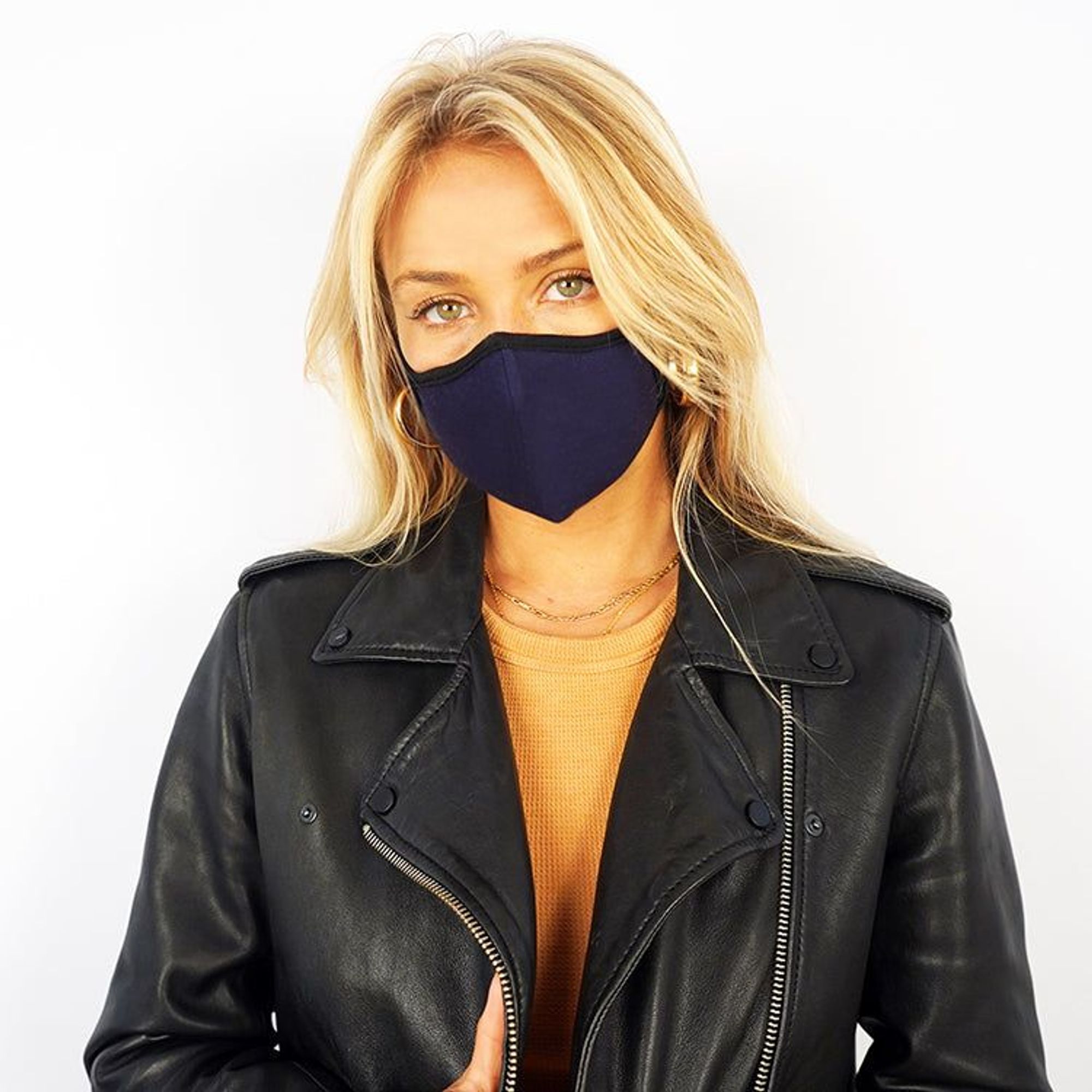 Protective: For You and Those Around You
Vogmask benefits both you and those around you. The mask helps protect from inhaled airborne particles and helps prevent the exhaled respiratory droplets of the wearer.

Vogmask combines the benefits of germ masks intercepting exhaled droplets [source control] with the highly efficient particle filtering of a workplace respirator [wearer protection].

Along with other mitigating activities, non valved filtering masks can help reduce the risk of cross-contamination and help protect from inhalation of a wide range of particles including dust, mold, mold spores, germs, allergens, particles in poor air quality, wildfire smoke, volcanic eruptions, and other airborne contaminants.

Vogmask is designed to provide protection for the mask wearer from inhaled particles, similar to a workplace respirator, and filter the exhaled droplets of the mask wearer into the environment, similar to a germ or surgical mask. The performance of Vogmask products has been tested to confirm particle filtering efficiency, breathability in safety range, suitability of materials, fit, and other important health and safety requirements.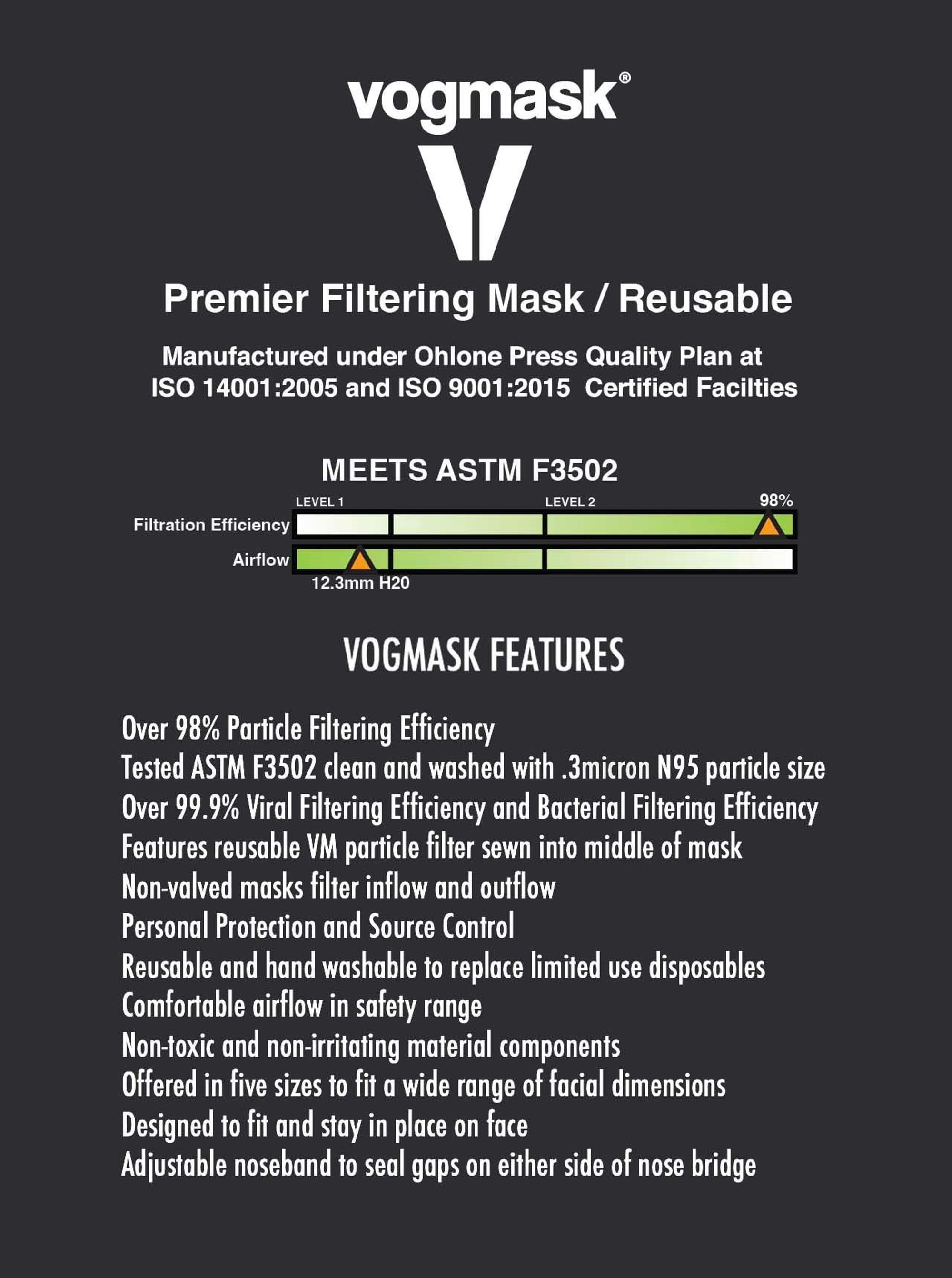 Qualifications and Standards
In 2021, ASTM established standards for barrier face coverings under Specification F3502. ASTM F3502 was established in response to the Global COVID-19 pandemic and the need for ensuring barrier face-covering meet and are labeled with stated requirements for protecting health in both source control (reducing expelled droplets) and personal protection (reducing the amount of inhaled particulate matter by the wearer).

Vogmask conforms to these standards to provide high-quality protection.

Filtration Efficiency - How well the mask filters sub-micron particles from going through it when the user is inhaling with the mask properly fitted

Breathability - Masks must be easy to breathe in so the user can wear them comfortably for long periods of time

Re-Use Potential - Masks must meet standards for breathability and efficiency right out of the packaging and after the maximum number of cleaning cycles identified by the manufacturer

Leakage - How well the mask stays in place on the face when in normal use to limit inward leakage of particles through and around the mask