FAQ
SIZES
Size Small : Youth under 10 years old
Size Medium : 10 years to petite adult 5'3" (1.6m) and under
Size Medium+ : Small adult 5'4"-5'7" (1.63m - 1.7m)
Size Large : Majority of all adults, adults taller than 5'7" (>1.70m)
Size XL :  Very large adult or over 6'2" (>1.9m)
Vogmask face blank dimensions
XL 230MM width X 152MM height 
L 207MM width X 148MM height
M+ 196MM width X 137MM height
M 176MM width X 133MM height
S 157MM width X 120MM height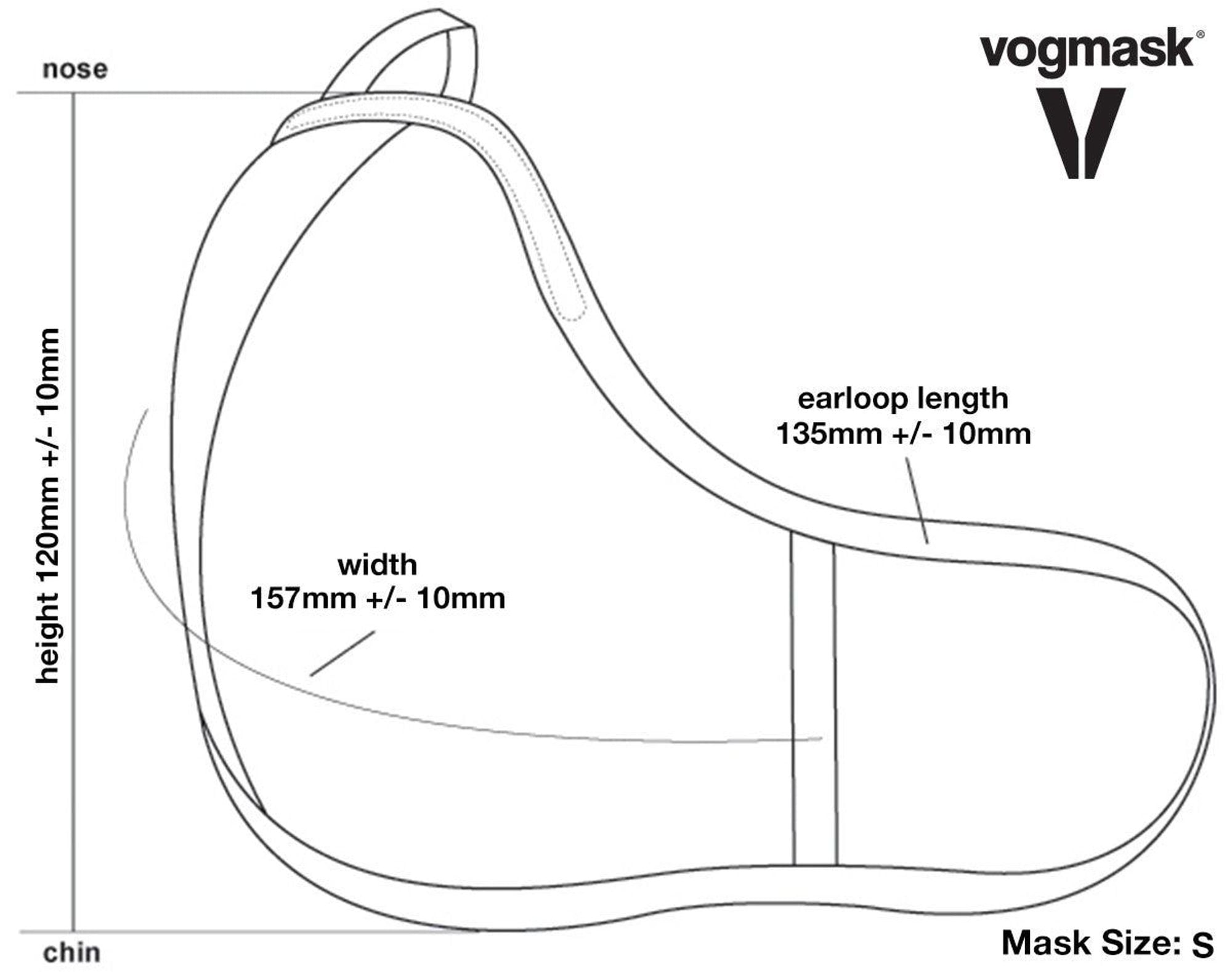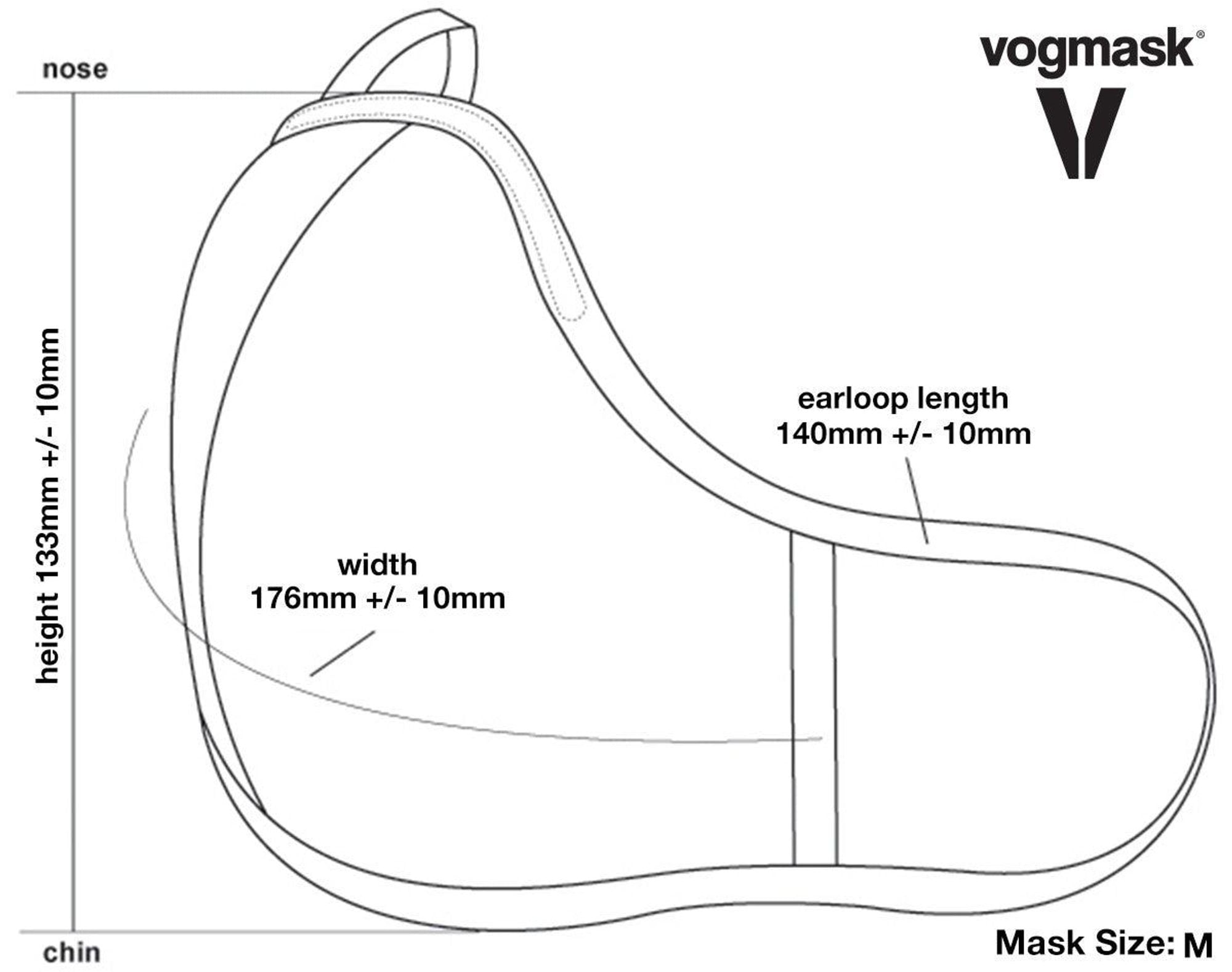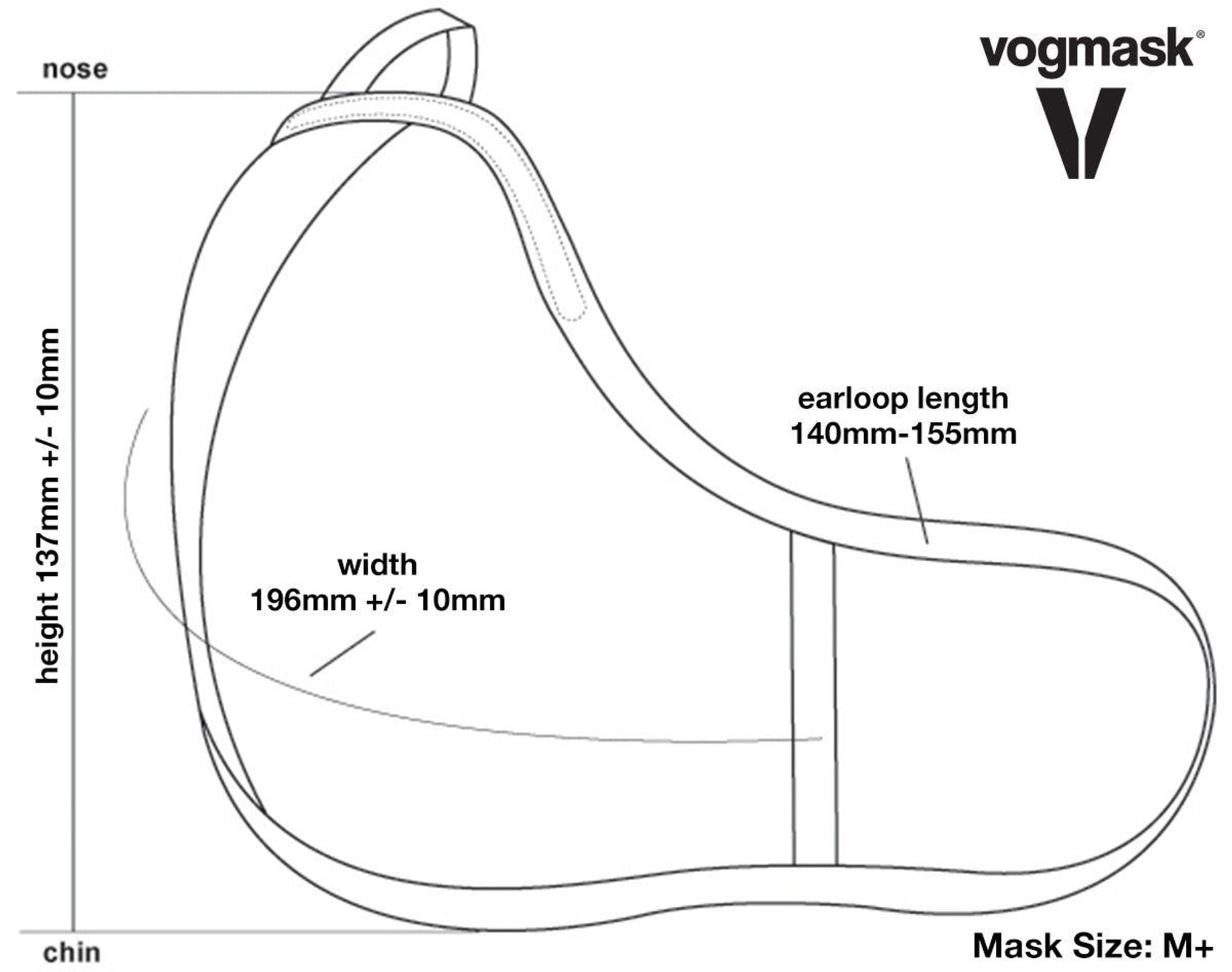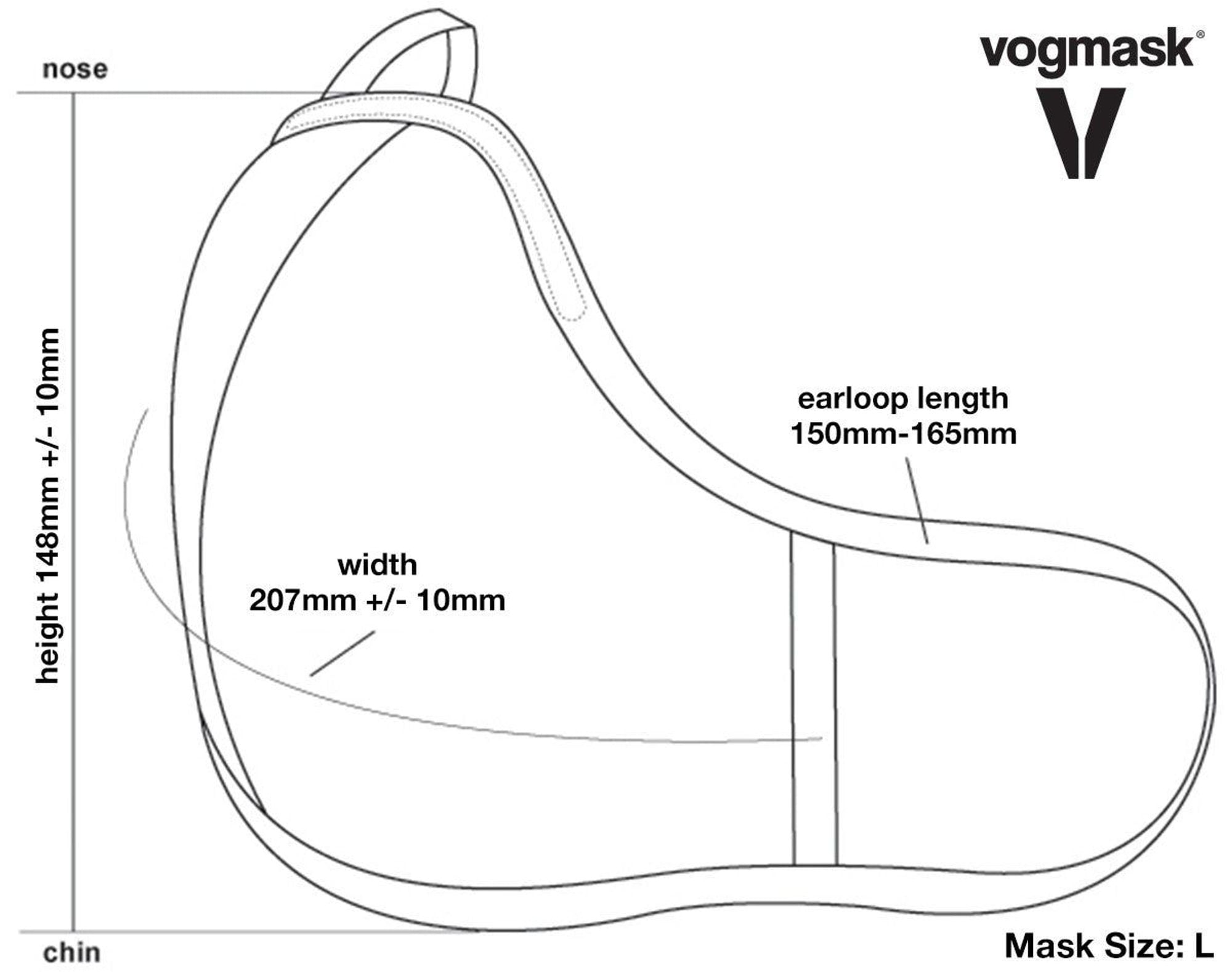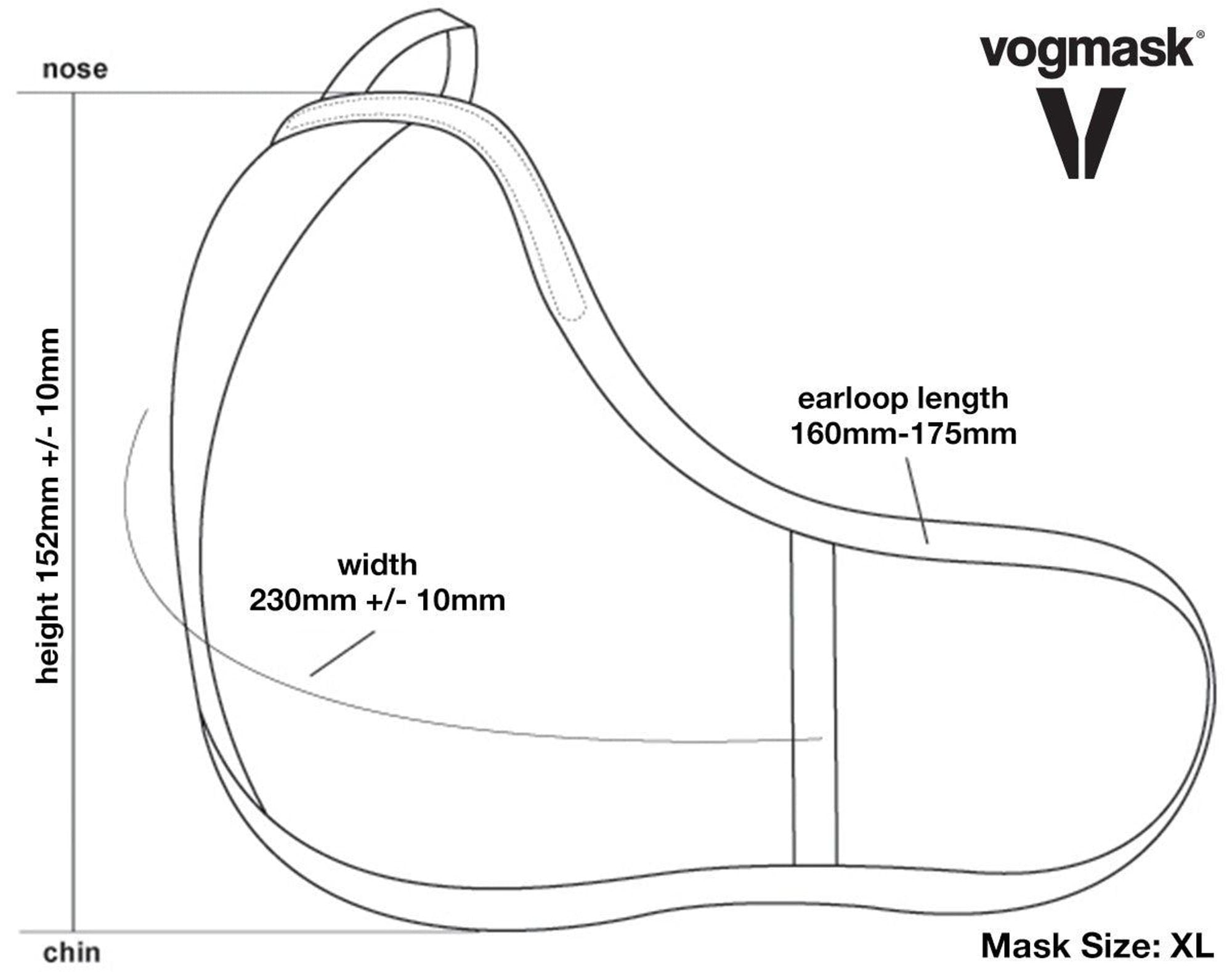 ARE VOGMASKS EFFECTIVE?
Vogmask is designed as a reusable highly efficient filtering face mask providing comfort with easy breathing, fit with a good seal around nose and mouth, style with many designs, and efficiency with filter media to address sub-microscopic particles.
All Vogmasks feature a VM filter recipe sewn into the middle layer of the mask. VM filter measures over 98% for .3 micron Particle Filtering Efficiency, and >99.9% for Viral and Bacterial Filtering Efficiency.
Fit is important to the efficiency of filtering face masks. Vogmask excels in fit testing on sample test subjects.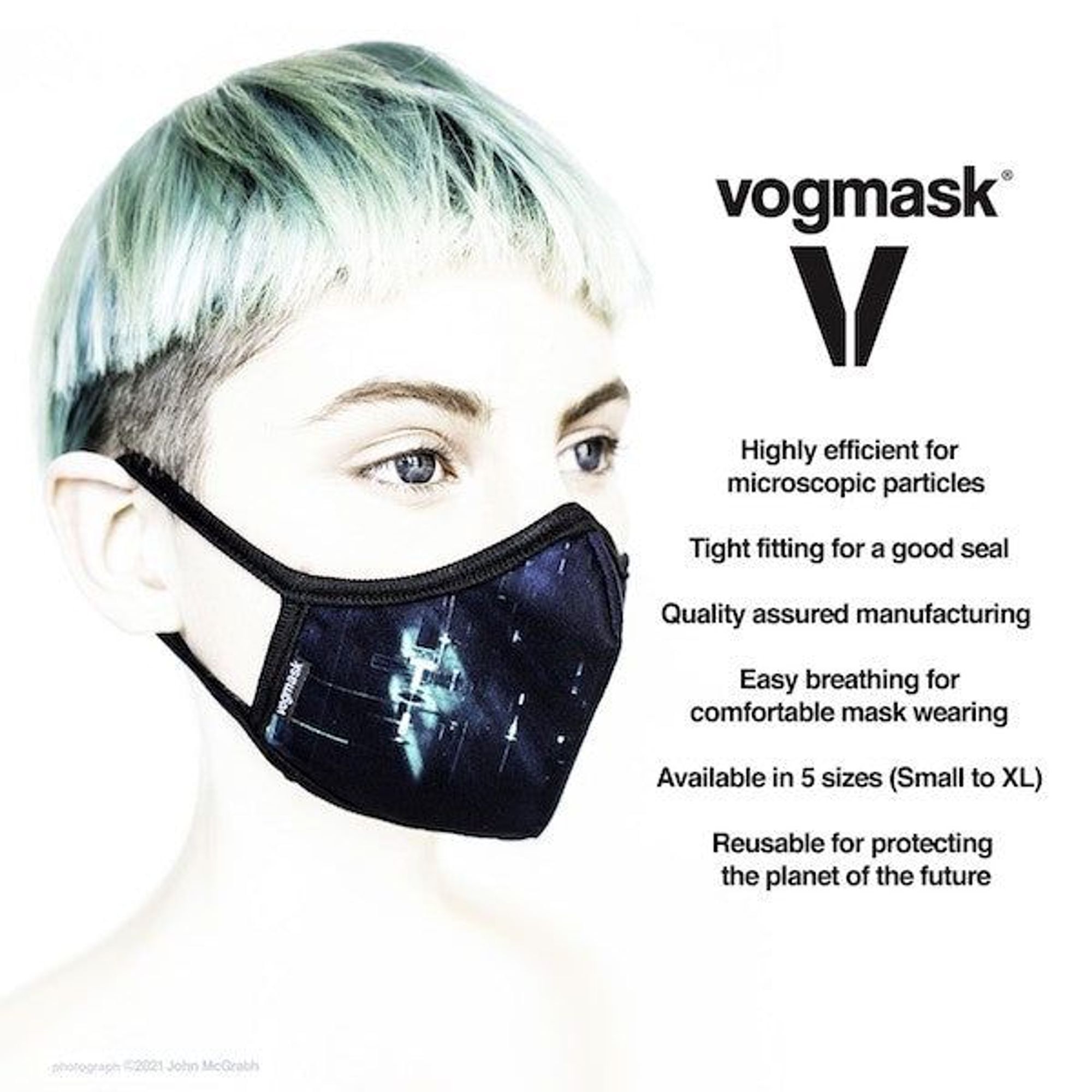 MATERIAL COMPONENTS
The following components have been qualified for safety to use in the manufacture of Vogmask products:
Outer and inner layer is synthetic textile or organic cotton (if marked Organic).
Filter media is VM filter, and in models marked with a C [VMC] for Carbon, a coconut shell derived carbon ash bonded to textile is a secondary filter layer for intercepting some odors. Organic VM masks do not contain additional carbon filter.
Trim and ear loops are 94% cotton and 6% latex-free spandex. 
All Vogmasks have a coated aluminum nose band in the trim of the top side of the mask to seal gaps on either side of nosebridge.
All Vogmasks are LATEX-FREE.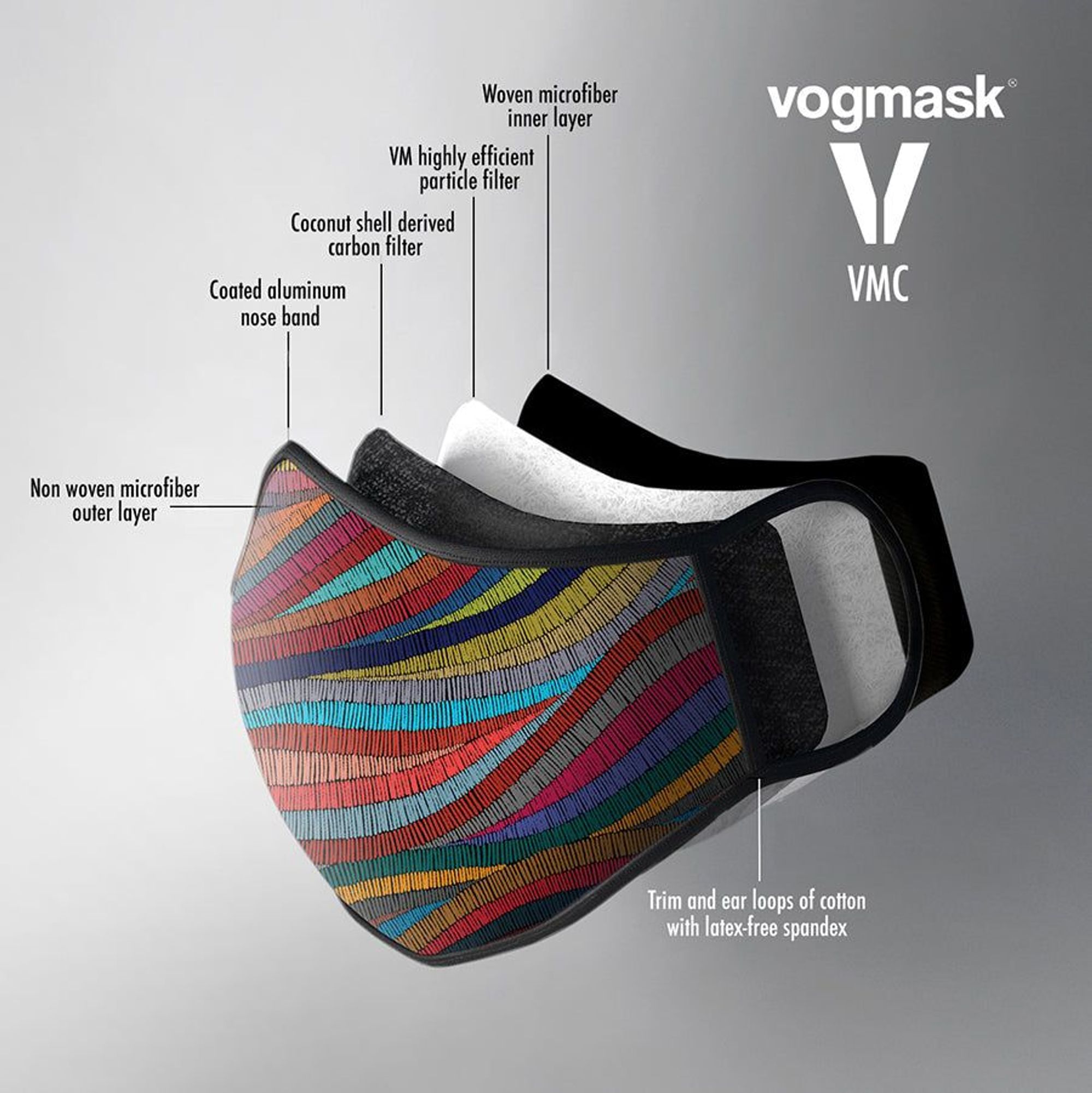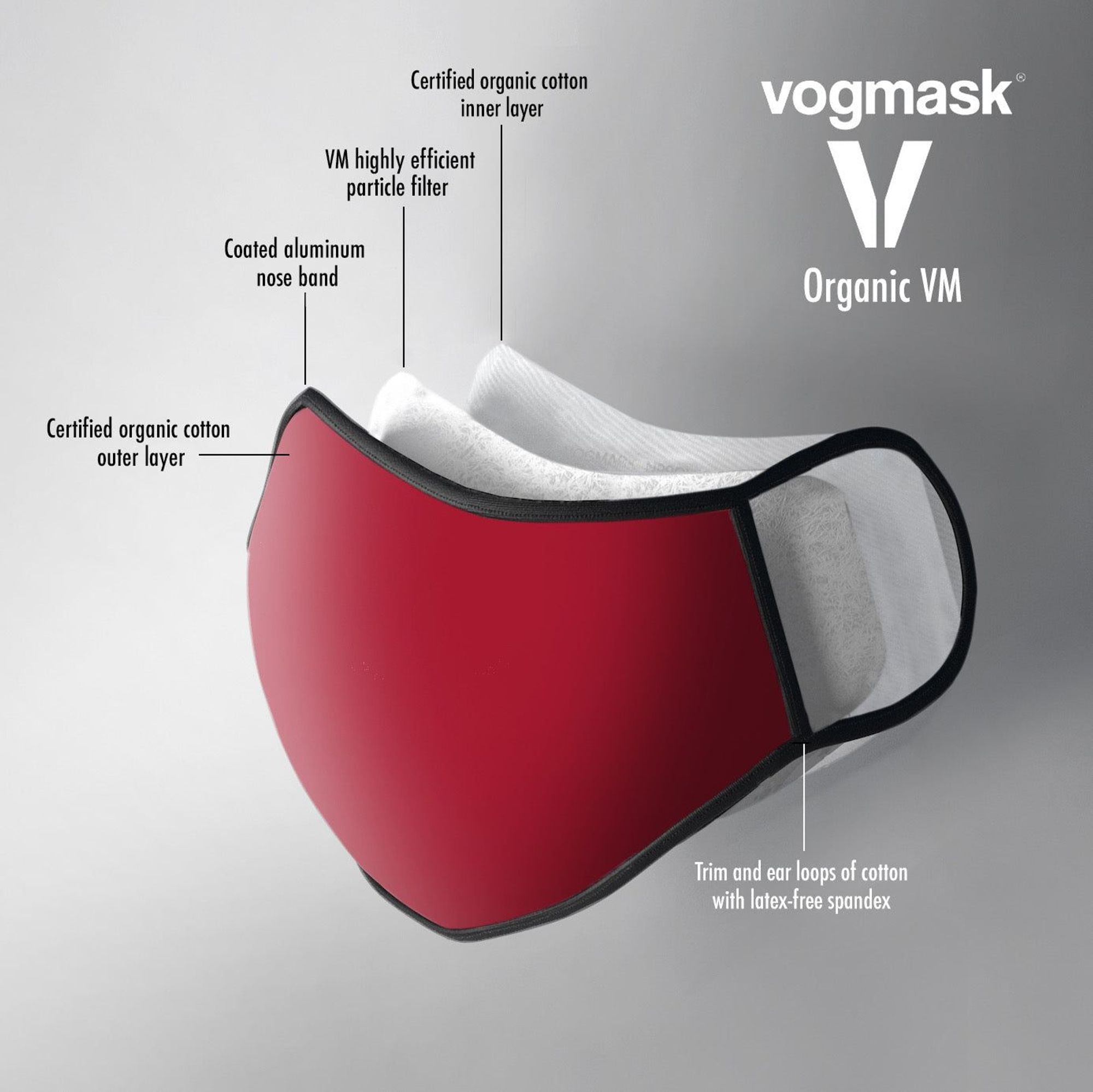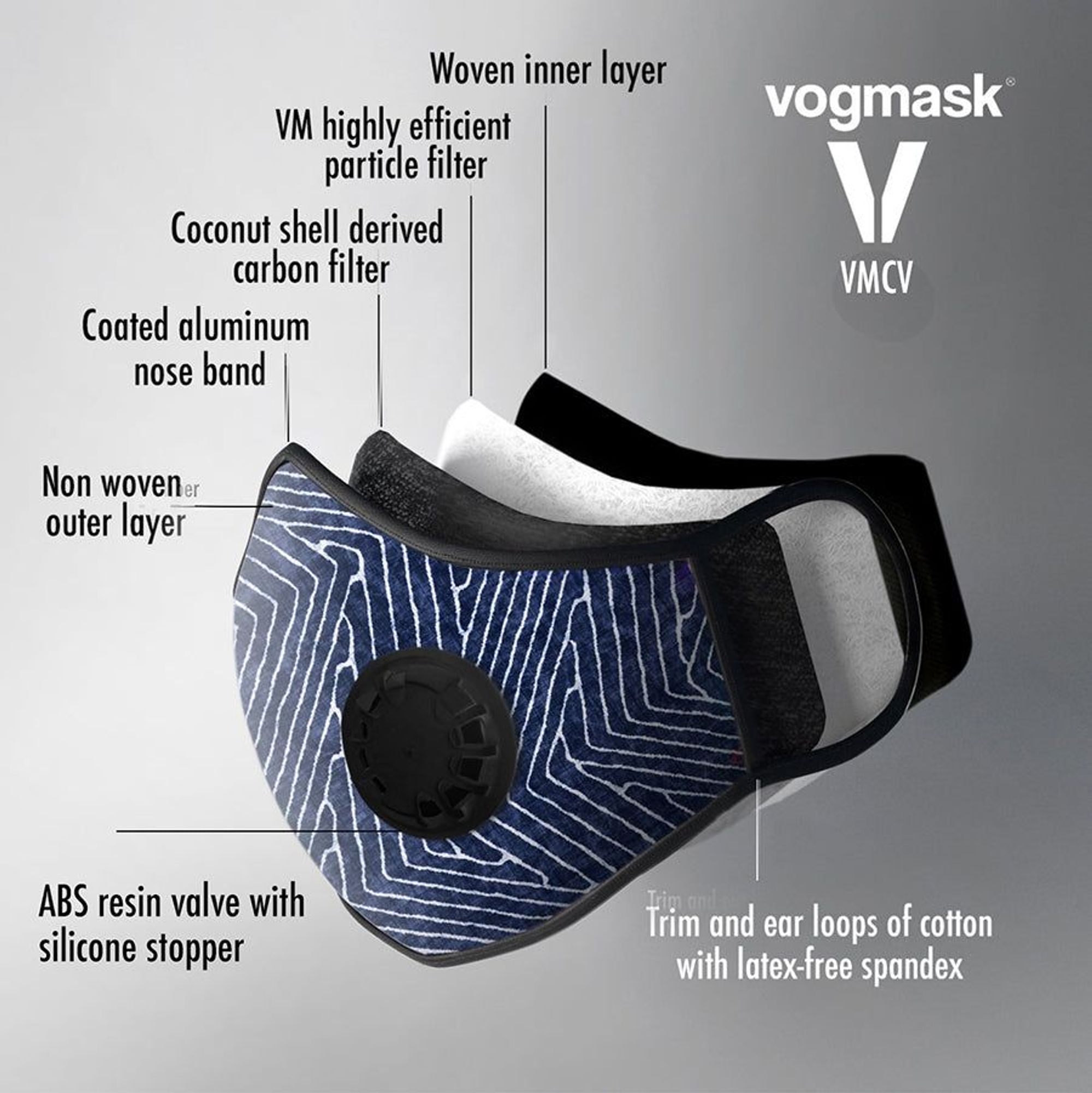 DIFFERENT TYPES OF VOGMASKS
Vogmasks are offered in non-valved VMC and Organic VM; and Valved in VMCV and Organic VMCV. Both Product Families feature VM particle filtering media in the middle of the mask. In Microfiber VMC, the outer and inner layer are a synthetic textile, and there are two middle layers: VM particle filtering media and a Carbon filter. In Organic VM, there are three layers: the outer and inner layers are GOTS Certified Organic Cotton. The middle layer is VM highly efficient particle filter. Both Product Families provide equal protection from inflow and outflow of microscopic airborne particles.
NON-VALVED VOGMASKS are highly efficient filtering face masks with no exhalation vent. Vogmasks protect both the mask wearer from inhaling microscopic particles AND help protect others from the exhaled droplets of the mask wearer.
VMCV and Organic VMCV are VALVED filtering masks with middle layers of VM particle filter for helping to protect from >98% of microscopic particles, carbon filter, and an exhalation valves that facilitate exit of moisture and heat from the interior of the mask. Valved Vogmasks help to protect the wearer ONLY from inhalation of airborne microscopic particles. Note that part of your exhale exits the valve unfiltered.
NOTE: Non-valve Vogmasks face to the right on SHOP; Valved Vogmasks face to the left.
HOW LONG DOES A VOGMASK LAST?
Vogmask conforms to Reusable Status.
Vogmask may be worn daily. Viruses cannot multiply outside of a living organism. Therefore, they cannot multiply on filter media or any surface.
Particles, including viruses, are collected on filter media. The user is not directly exposed to organisms trapped in the filter media. Mask users should wash their hands before putting on a mask and after taking one off. 
The VM filter recipe in Vogmask has an obsolescence date three years from manufacture or opening of the airtight packaging, whichever is later. The recommended Use by Date is marked on the back of the packaging at top of the diamond under the International Hourglass Symbol.
Most Vogmask users replace their Vogmask at 3 months to one year of use.
HOW TO CLEAN A VOGMASK
The filter media is sewn into the middle layers of the mask and not replaceable.
After usage, place the mask on a hook or surface for airing; do not store in any packaging while airing. Exposure to sunlight through a window will help to freshen the mask.
You may use >61% alcohol wipes on surfaces of the Vogmask.
To preserve longest useful life of the mask, hand wash by rinsing with hot water on both sides of mask, ear loops, and trim. You may use a drop of liquid soap on surfaces and rinse. Hang to fully dry.
Vogmasks do not need frequent washing. Excessive washing will eventually reduce filtering efficiency.
ROLE OF MASKS IN GLOBAL HEALTH
Mask use is an important tool in reducing risk from inhaled airborne microscopic contaminants and to be effective in preventing exhaled droplets from the mask wearer.
Vogmask provides source control by reducing exhaled respiratory droplets and aerosols of the mask wearer and personal protection for reducing the amount of inhaled particle matter by the mask wearer.
Vogmask is a tool for wellness, style, and a symbol of care for yourself, the planet, your community, and the future.
WHAT IS THE MISSION OF VOGMASK?
VOGMASK supports humanitarian, relief and clean air awareness efforts around the world. Wearing a Vogmask starts a dialogue about our responsibility to change behavior for the health of the planet, to refuse to accept an inherited future, and to take charge of our own health and protect others around you.
ORDER FULFILLMENT
ORDERS are normally shipped within 1-3 business days from receipt from RUSH ORDER Fulfillment Services in Gilroy, California, USA. You will receive a shipping confirmation email with a tracking number confirming the shipment.
For US domestic orders, the free shipping method is USPS First Class Mail with estimated transit within USA 2-7 days. International orders are shipped by FedEx International with estimated delivery of 2-7 days for a shipping charge of US $15, any quantity up to 10 masks.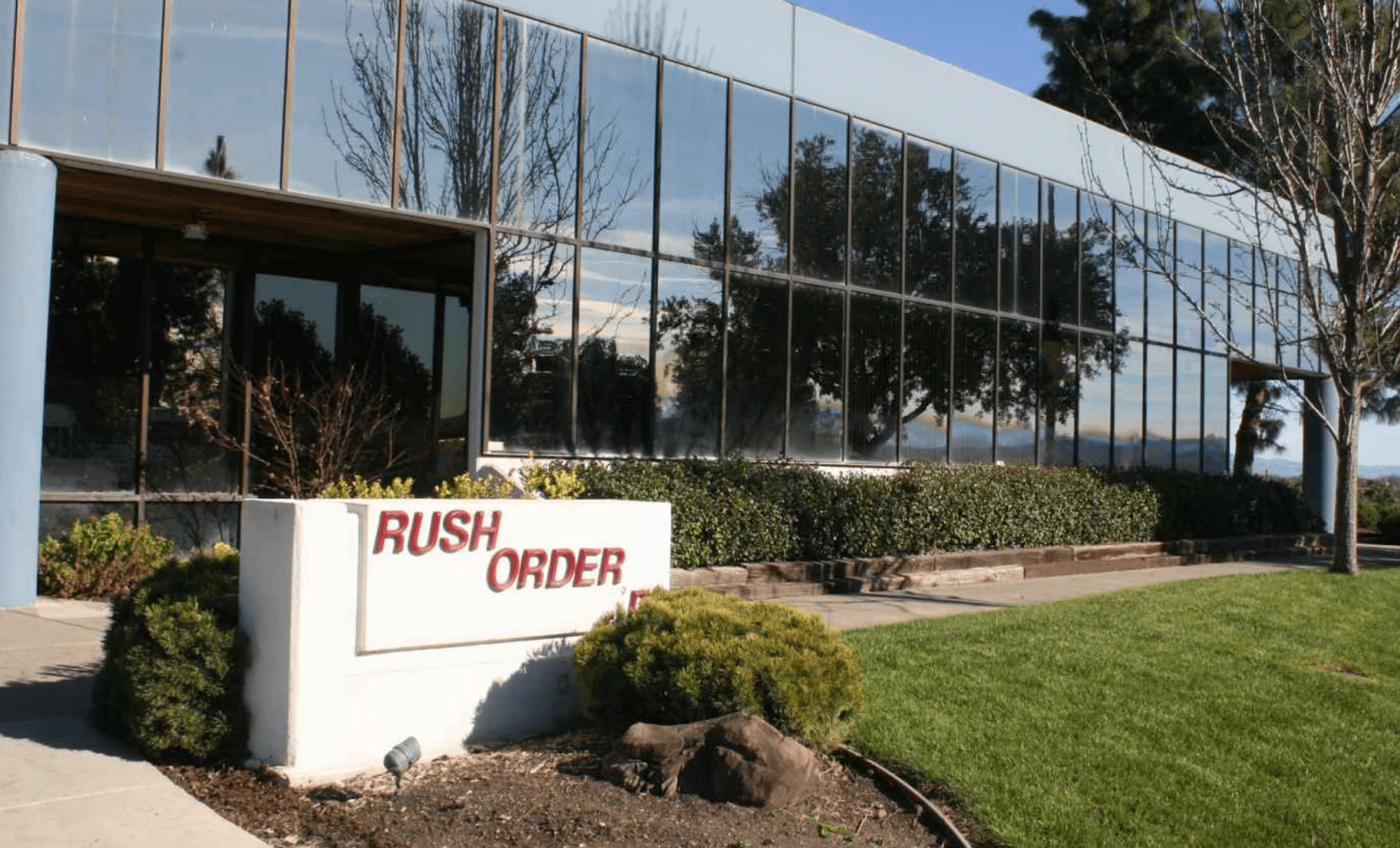 RETURNS / EXCHANGES
If you are unsatisfied with your order, please email contact@vogmask.com with your order number to request an exchange or refund.  
RETURNS: 
We will refund if you are not 100% satisfied with your order. Please allow 3 days for your refund to process.  
ORDER CORRECTION:
Please email any order corrections to contact@vogmask.com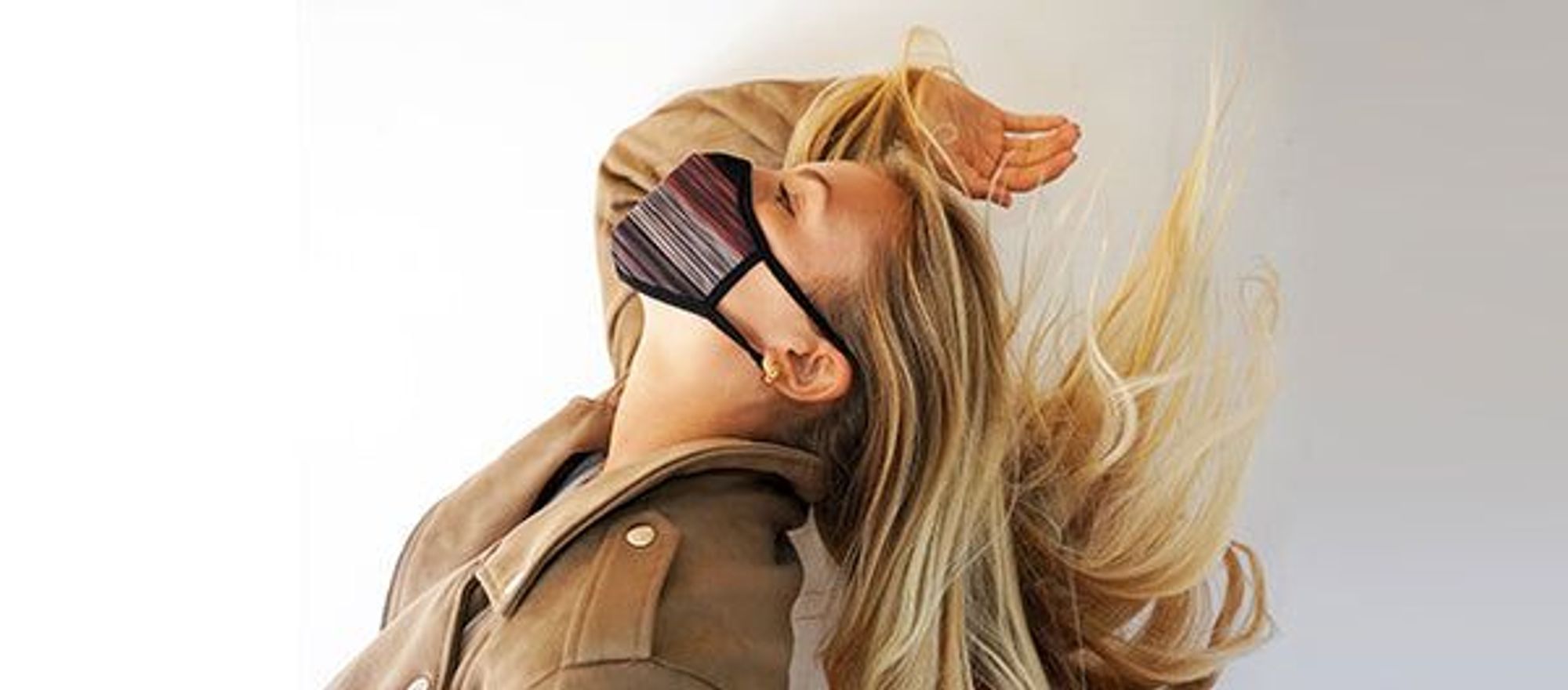 ARE VOGMASKS COMFORTABLE?
Vogmask meets these health and safety requirements for comfortable and effective filtering face masks:
ERGONOMICS: The mask must be designed for normal activity while enjoying appropriate protection of the highest possible level.
SUITABLE MATERIALS must not adversely affect user hygiene or health.
DESiGNED to facilitate correct positioning on the user, as light as possible to wear, and no restriction of user's field of vision.
TESTED to confirm breathability in the safety range designated by international standards.
WHERE IS VOGMASK HEADQUARTERED AND WHERE IS VOGMASK MANUFACTURED?
Established in 2011, Vogmask is a San Francisco headquartered, customer driven organization dedicated to providing high quality reusable consumer respiratory protection by assuring performance, comfort, reliability, and value.
Vogmask is manufactured in ISO Certified Sewing Plant in Seoul, Korea.
Still Have Questions?


Contact Us